Two weeks ago Microsoft jumped in to the cool team chat collaboration space that has been defined by the likes of Slack and Atlassian's Hipchat, but actually they did much more than that. It's our belief that the incredible rise of Slack, and Microsoft's move to provide a new front end entry point to the Office365 family signal a new direction for the digital workplace and the future of social collaboration solutions.
THE RISE OF SLACK
Slack have only only been around since August 2013 but what they have achieved is pretty incredible! You probably didn't know that the name is an acronym, "Searchable Log of All Conversation and Knowledge". Slack has $540m in funding and a valuation of around $3.8 billion at their last funding round in March, and then we had those Microsoft rumours suggesting they might buy them for $8m. Back in May this year Slack passed 3m daily active users, but that was 3.5 times growth in both free and paid for users over the previous year, and the rate isn't slowing down. Just last month they blogged about cruising past 4m users, past a million paid seats and $100,000,000 in annual recurring revenue (so even with Microsoft's announcement, Slack won't be going away). They say they are used by 77 of the Fortune100. There are teams inside eBay, Ogilvy, Salesforce, Samsung, and Urban Outfitters. IBM themselves have 30,000 users, and have even announced a partnership with Slack so Watson's AI can quickly provide insights from the huge data sets collected by the messaging system. Slack is being used by large enterprises, small enterprises, by groups of developers sharing code snippets, and it's even gaining traction in the gaming community.
Let's look at what Slack actually provides a group of users. The functionality covers three areas:
A message threading alternative to email that is device independent. I can use it on Mac, Windows PC, through a web interface, or with mobile apps for smartphones and tablets. Conversations are synced across all devices so I can join the conversation in one place, and continue on a different device when I'm on the move or back at the office.
It has a more open communication approach – the conversations get organised within channels that are like the hashtags I'm used to on public social media platforms, and everything is searchable so that I can easily loop in the skills and people I need.
The third key area is Slack's focus on helping me with menial tasks. They have a growing directory with over 750 apps, chatbots and algorithms that I can deploy to help make my collaboration life that little bit easier. Slack are riding the growing wave of Bots, Machine Learning, Artificial Intelligence and Robotic Process Automation – a mega trend that is changing office work just as much as automation has on the shop floor.
But wait, there's more. I mentioned sharing code snippets, but those 750 apps include easy integration with developer and agency friendly tools like Trello, IFTTT, Zapier and GitHub. They are also investing in people to help them scale with senior hires from Salesforce and Foursquare this year.
Where does Slack fall down? It's designed for small group collaboration. The free version limits you to no more 10k of your team's most recent messages. As groups get bigger, conversations get extended and things are more difficult to see or find. It doesn't work so well for large communities or societies, or where you need a news feed of company wide information that is important but not urgent.
WHAT IS TEAMS?
Two weeks ago Microsoft responded, not by buying Slack, but by creating their own group chat solution called Teams. CEO Satya Nadella with a little help from his friends, laid out the new strategy and provided an impressive demo of the product. From my initial take it has many of the good characteristics of Slack, certainly has a similar look and feel, but offers the potential of more through tight integration with the Office365 family of products that it sits in, and becomes the front end to. Satya opened the announcement talking about how the new product needs to accomodate how different teams work differently, using the example of jazz ensembles, crew races, and even cricket teams and that sets up the fact that the product allows you to customise the experience on a team by team basis.
Actually, Teams is based on existing functionality called Office Groups. Our friends and research partners Lecko have just produced the third version of their excellent guide to Office365, literally just days before the Teams announcement. Take a look below at their "London Underground" influenced map of the way that the Office 365 City fits together. Office Groups sits at the centre of the purple section. Office Groups becomes Teams, a new entry point that will help you move away from your traditional inbox to get things done. When you set up a private team, a Sharepoint is automatically provisioned "behind" it to support it, with a team email address, a OneNote, and space for any files to be placed or created there. You can open files or notes within the conversations stream, and have conversations around those objects. Of course (the rather excellent) OneNote has all the characteristics of a wiki for proper co-creation. When you go in to a team space, you can pin things on to the tabs across the top of the space, Things like the budget for this project (an Excel spreadsheet), a calendar planner for this project team, or even third party tools like Zendesk, accessed right there. This access to and seamless integration with the whole of the Office365 suite, things like Microsoft Power BI, and a set of third party apps too, is crucial. Teams acts like your inbox, or maybe it's a workbox, or maybe it's your digital workplace hub.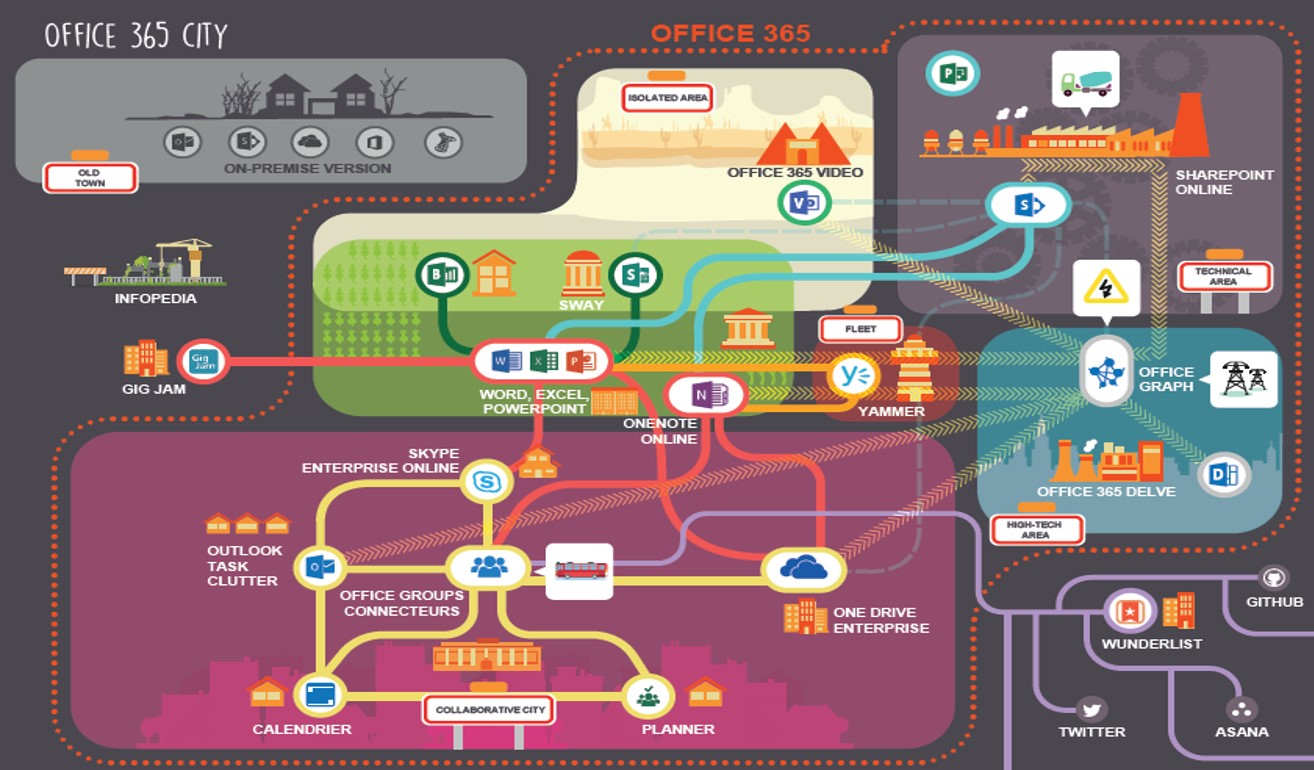 You can also see Microsoft's Office Graph on the Lecko map. It sits underneath the team space, listening for what is relevant to us, what we are working on what we are doing. Within Teams when it comes to typing your messages you can add emojis, stickers, or attach files. A 'Fun Picker' lets you find and add Giphy GIFs, or memes. The next thing to say is that you can interact with bots just like Slack. T-Bot sits on top of the Teams help system, so you can ask questions like "how do I create a channel?". WhoBot links in to the directories, and more importantly the conversations and meta data associated with that person, so you can ask "who knows about ticket sales?". You can jump in to video chat with the team right there, with Skype.
Microsoft Teams is available as a customer preview in 18 countries. General Availability is planned for Q1 2017, when it will have 85 Bots, 70 connectors, and integrations with 150 partners including Zendesk and HootSuite. In terms of licensing it is available to any user on an O365 Enterprise or Small Business plan. One key point that Satya emphasised is that Microsoft have 85million active users of O365, and this is the market they are addressing.
THE FUTURE OF THE DIGITAL WORKPLACE
Over on Hewlett Packard Enterprise's new Insights blog I published 5 things Slack and Microsoft Teams tell us about workplace collaboration. They are:
Existing collaboration solutions aren't as easy to use as they should be. Slack has the easy of use and frictionless set up of the consumer apps we all used to on our smartphones and tablets and begins to make ESNs from Jive and IBM begin to look like legacy software.
Teams need well-executed chat tools to get things done. You can substantially reduce dependence on your e-mail inbox when a team chat application works well across multiple devices.
The bots are taking over. This is the masterstroke for Slack and Teams because along with the tapping in to the possibilities of AI and machine learning, they have opened up platform to provide a store of integrations to third party apps as well as the bots. It means Slack and Teams can provide me with a place where work happens. Where I can connect to these disparate app silos that my company uses, but in one place where the useful conversations are already happening. This is the starting point for a proper digital workplace, or what Dion Hinchcliffe called a digital workplace hub in his post on ZDNet some days ago.
New entrants can still disrupt this market. Collaboration solutions like Jive or Connections have been available for more than a decade. Even in a the crowded market of collaboration tools, enterprise social networks, and messaging apps, there is still room for a new entrant with a new approach to gain significant traction.
The writing's on the wall for e-mail. And it's about time!
WHAT ABOUT FACEBOOK?
The new enterprise version of Facebook has been quietly piloted by major brands and large companies for many months. On 10 October just over a month ago, it was finally launched as Workplace by Facebook. Just like your personal, consumer Facebook it comes as 2 apps. Workplace is the private company version of Facebook. Work Chat is the enterprise equivalent of Facebook Messenger for team chat and messaging. Early stories of user adoption are impressive, because people are already used to the way it works from their personal lives. Alongside Slack and Teams it will have a significant impact.
WHAT'S NEXT?
The Slack, Teams and Workplace approach marks a shift in the enterprise collaboration space and a reset for the digital workplace. Products like Jive, IBM Connections and a whole host of very good ESN solutions are at risk of looking like legacy. Remember how quickly Nokia went from being the dominant mobile and smartphone market leader, to failing, acquired and subsumed because it didn't keep up. The ESN software brands will have to compete with themselves aggressively, or follow Nokia's fate.
If you want to find out more about the digital workplace and distributing digital throughout the enterprise, join us next week at the Enterprise Digital Summit London.
The following two tabs change content below.
David Terrar
CEO of D2C, Co-founder & CXO of AgileElephant, and member of the Enterprise Irregulars.
Latest posts by David Terrar (see all)